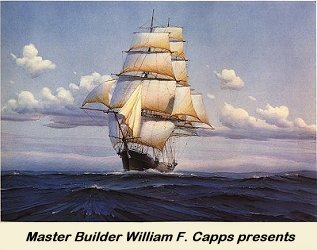 Handcrafted Model Sailing Ships
---
Welcome to our Web site! We are proud to offer model sailing ships crafted by master builder William F. Capps, Jr., M.D., featured artist at Boatworks in Carmel, California. Mr. Capps is renowned for the meticulous detail in his work, and most especially the quality with which each model's rigging is constructed. Each model is all wood, constructed from a kit, and always completed with a few additions and modifications that indicate Mr. Capps's unique style of building. As a direct result of offering our models for sale via the internet, we are able to offer these magnificent ships at a cost 50% of their normal retail price. Each model comes with a Certificate of Authenticity, signed by the builder, as well as additional information regarding the boat and its construction.

Yes, we accept special requests to build a specific model. Construction times vary for each vessel. Please enquire via e-mail by clicking on this link.

The following thumbnail images and text associated with each represent the models available for sale. Shipping cost is not included in the purchase price, but models can be shipped overseas if desired. Click on the thumbnail of your choice in order to view a full size image of a particular model. If you would like to receive larger, higher resolution pictures of a model you are interested in purchasing just click on the following link:

To order, contact us at: borrego@worldnet.att.net




---
The Model Gallery

H.M.S. Victory -- Length 51", Height 44" (with stand), Scale 1:78. The pride of the British Navy for over 200 years, H.M.S. Victory served as Admiral Hiratio Nelson's flagship during the Battle of Trafalgar in 1805. Bristling with 104 guns, she is the most famous ship-of-the-line ever to sail the seas. She is still afloat today, and is preserved at Portsmouth, England. This model is the ultimate in detailed woodworking and craftsmanship. A magnificent addition to any luxury home or museum. Very large, highly-detailed photographs are available upon request. $4,000.00

H.M.S. Pandora -- Length 33", Height 24", Scale 1:85. H.M.S. Pandora remains as mysterious and intriguing as the H.M.S. Bounty mutiny in which she shares a part of nautical history. Returning from her mission to recover the Bounty mutineers, she wrecked on Australia's Great Barrier Reef during a fierce storm in August, 1791. Today Pandora sits in 110 feet of water off Cape York, Australia, and is currently undergoing excavation and study by the Queensland Museum of Brisbane. This model is exquisitely built, and we highly recommend requesting and viewing more detailed photographs. $2,100.00

Cutty Sark -- Length 32", Height 18 1/2", Scale 1:90. World famous clipper ship from the late 1860s, the Cutty Sark set several records during the course of her career as a "tea clipper." She represented the pinnacle of design for large sailing vessels, and resides today in dry-dock at Greenwich, England, where she is preserved as a memorial to the merchant navy in the days of sail. $2,400.00

Independence -- Length 29 1/2", Height 24", Scale 1:35. Built in the American Colonies in 1775, the Independence was an elegant, two-masted schooner that carried twelve guns and fought a short career during the Revolutionary War. $1,200.00.

Carracca Atlantica -- Length 33", Height 25", Scale 1:54. The Carracca Atlantica was a classic Portuguese merchant ship, the type known as a carrack, and was full-rigged to run before prevailing winds. Carracks were large cargo vessels for their day, but armed for combat when necessary to fend off pirates and other hostile vessels. The great explorer Magellan's entire fleet for his around the world voyage consisted of carracks like the Carracca Atlantica. $1,200,00.

Golden Hind -- Length 20", Height 16", Scale 1:53. The famous vessel Sir Francis Drake set sail in late 1577 on a secret mission to raid the Spanish port of Panama. Drake sailed the Golden Hind down the east coast of South America, through the Straits of Magellan, and up the coast to what would one day become California. He returned to England after a voyage of three years, whereby he was knighted by Queen Elizabeth I. $700.00
*** Coming Soon: The Flying Cloud. See the magnificence of over 300 hours of labor dedicated to the rigging alone! ***

H.M.S. Endeavour -- Length 32", Height 25", Scale 1:60. Lieutenant James Cook set sail aboard the Endeavour in 1768 to explore the Pacific Ocean during a three year voyage. He and his crew discovered Australia, mapped New Zealand, Tahiti, and the Society Islands on the trip, as well as conducted many scientific experiments and observations. During the voyage Cook encountered many adventures and tragedies in which many members of the crew lost their lives, and upon the ship's return to England Cook advised the Admiralty that no other vessels should be sent to explore distant lands. THIS MODEL IS ON DISPLAY AND ONLY AVAILABLE AT BOATWORKS IN CARMEL, CALIFORNIA.

Santa Maria -- Length 31", Height 22 ", Scale 1:50. A three-masted, cargo vessel 98 feet in length, the Santa Maria is unforgettable as Columbus's flagship on his voyage to the "New World." This beautiful ship was never to return to Spain, as she ran aground on a reef in Hispaniola on December 24, 1492, and was completely destroyed. THIS MODEL IS ON DISPLAY AND ONLY AVAILABLE AT BOATWORKS IN CARMEL, CALIFORNIA.
---
Contact us by e-mail to order or ask a question
---
William F. Capps, Jr., M.D. is eighty-one years old, and a retired medical doctor. Following a twenty year career in the Air Force and retiring as a full Colonel, he proceeded into private practice for another sixteen years until retiring from that endeavor as well in 1993. He presently lives in Corona del Mar, California, and spends much of his time either working on models, traveling abroad, or practicing self-taught carpentry skills by doing woodwork for friends and family. He is also an American Civil War enthusiast. His model boatbuilding began in 1984 as he sought another avenue to utilize his surgical skills, as well as placate a desire to build and work with wood. Many models have been completed and sold to date, among them the H.M.S. Victory, H.M.S. Beagle, H.M.S. Pandora, Cutty Sark, Flying Cloud, and a magnificent 48-inch long model of the U.S.S. Constitution.
---
Detail Gallery
Click on the ship names below to see large, highly detailed images of models sold in the past....
H.M.S. Bounty | H.M.S. Endeavour | Mayflower

Bounty close-up | Endeavour close-up | Mayflower close-up

---
Nautical and Various Links
For those of you visiting our Web site, we would like to offer the following links to other nautical sites on the World Wide Web. Choose from the various categories and enjoy the sites!
Nautical Stores:
Ancient Mariner
Coastal Marine Online
Newport Nautical Supply
Yacht Charters and Clubs:
Spain Yacht Charter -- Charter a yacht in the Mediterranean
Bahia Corinthian Yacht Club
Balboa Yacht Club
Dana Point Yacht Club
King Harbor Yacht Club
Mission Bay Yacht Club
Newport Yacht Club
Miscellaneous Web Sites:
Andree Conte, Ltd. -- Custom Furniture & Accessories
Cottage Corona del Mar -- Cottage Furnishings & Home Accents (including nautical themes)
Geoprime Minerals
Revolutionary Harvest -- A Novel
---









Last updated: July 3, 2007 © Copyright 1999 & 2000